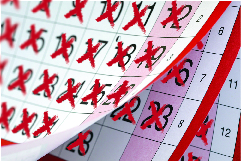 If you're tired of reading blog posts about my job search, you're in luck. Today is my first day as Director of Marketing for Kinetix.
This is the first time in my 20-year career that I've actually had to do a job search for longer than three weeks. I've learned a few things over the last eight months and five days that might be of value if you find yourself in that position. It also might help you support a friend or loved one who is out of work.
Being out of work is bad for your health. According to The AMA Guides to the Evaluation of Work Ability and Return to Work, "Prolonged absence from one's normal roles, including absence from the workplace, is detrimental to a person's mental, physical, and social well-being." My friend Dr. Les Kertay recorded a TED-style talk about this while we were at R3.

Nothing really illustrates this as much as experiencing it for yourself. At first, it felt like an extended vacation. After a while, I started to question my job search methods. I started to wonder if I'd ever find work again. I started to question my competence, my ability, and even my personality. As I fell further into this funk, I found it hard to do things – to keep up my consulting practice, to network, to go to the gym. The longer you're out of work, the harder it becomes.
Get some help. You don't have to do this alone, and in fact, you shouldn't.  According to IbisWorld, there are almost 300,000 people who work in employment and recruiting. A quick search shows 847,000 recruiters and sourcing people on LinkedIn. If you don't know any, find some and introduce yourself. Also, use your network! Talk to everyone you know. Burn up the phones. Have coffee with people who are willing. Two things will happen – you'll expand your network, and people will help you either find a role, or get into a role you've found.
Don't count your chickens. I was so very guilty of this. I'd get close on an opportunity that I felt good about, and I'd stop looking. I wouldn't make calls, I wouldn't network, I wouldn't fill out applications. My activity would simply stop, because I was certain I was going to get the job. Then I didn't get the job, and I had to start all over again. Don't make the pain of rejection worse by not having continued to look. A second or third or fourth interview isn't a guarantee. Don't stop looking until you have an offer in your hands. Plus, you may find an even better opportunity!
Maxima enim est hominum semper patientia virtus. (The greatest of human virtues is always patience. Cato's Distichs) The process is the process, and there is very little you can do to circumvent it. No matter how long you are out of work, you have to keep working at it. The only way you can make the process shorter is to work at it. Truly, you have to be the soul of patience, and it will be very, very hard.
Don't build bookshelves. In John Irving's The World According to Garp, the main character, who is a writer, finds himself unable to write. He starts doing home projects like building bookshelves. His wife notices, and when he starts projects that are moving him away from writing, she simply shakes her head and says "more bookshelves." It's very easy to get caught up in other things besides your job search. For me, it was domestic duties. Our house has been spotless for months. I added domestic chores to my to-do list, and some days those became the only things that I accomplished. After a while, I realized that they had to go, or I'd find myself cleaning our house until the end of time.Whatever your "bookshelves" are, stay away from them.