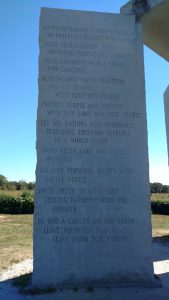 Suzanne and I went for a long motorcycle ride today, a ride I entitled the "random destination tour." I had strung together two or three destinations that I'd wanted to see and a route that we could complete in a day. The destinations were interesting. We started at the subdivision Stonehenge, went to a little ghost town north of there called Bowman, and ended up at the Georgia Guidestones.
To me, however, what was more interesting was what we found along the way. We found another little ghost town called Colbert, with it's eerily empty historic district. Looking for food after Bowman, we headed for Vanna BBQ, not realizing that Vanna wasn't the name of an owner, but the town, at which we giggled hysterically. (By the way, the service at Vanna BBQ rivals some of the best restaurants in which I've eaten.) We rode through Royston, the home of Ty Cobb. All along the route we kept finding ourselves in interesting places, and great roads. The trip wasn't made by the destinations, but more by what we saw along the way.
As I've gone through my job search, I've found something similar. Of course, I'm eager to find a new opportunity, but I think I've been struck more by what I've found along the way as I started to talk to people in my network. I've been invited to business networking luncheons, introduced to great people, provided with tools and assessments and ideas. People have given of their time and resources and money to help me find my next opportunity.
As much as I'll be grateful when I accept an offer, I'm grateful to everyone who has helped along the way, and for the experience. The journey will have made the destination that much sweeter.