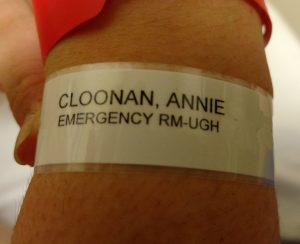 As Annie and I were getting ready to go ride the dirt bikes yesterday, she burned two fingers on her exhaust pipe – painful stuff, but relatively minor. As I was helping her tape up her fingers so her gloves wouldn't irritate the burns, I told her that sometimes things start to go wrong as you're preparing to go for a ride, and you should pay attention to them. If enough of them start to pile up, it's not your day, and you probably shouldn't take the risk of getting on the bike.
My bike wouldn't start, and I had to take it half apart to get it going. As we were loading the bikes, a strap came loose and had to be re-tightened. Then another one. I jammed a thumb in one of the tensioners and cut my knuckle. Annie spilled a hydration bladder while trying to fill it and had to mop the kitchen floor. We both kept dropping stuff.
Seems obvious that it wasn't meant to be now that I write it out. It wasn't our day to take risks, but we were both determined that we were going to go ride. Of course, we decided to ride a new trail, too. To make a pretty long story short, Annie crashed pretty hard and ended up with 14 stitches in her knee, and is generally sore all over from tumbling, and the last part of our day was spent in the ER at Union General Hospital.
Sometimes desire makes you ignore past experience. You want something so bad that you just go charging ahead, even if all the signs are telling you that another path may be the way.
I tagged this as a marketing post. What does this have to do with marketing?
Simple – don't ignore your past experience entirely when you think there's something wrong with a campaign. If the data is telling you that an idea isn't working, stop and consider another path. Don't ignore the signs. They're put in place for a reason. Your company's health may depend on it.
A heartfelt thanks to:
The EMS team in Union County that hauled Annie off the trail and helped me retrieve the motorcycles
Alicia, Andrew, Donna, and Tonya in the ER at Union General
Heather at Sicily's Pizza in Blairsville, who didn't look askance at us when we walked into an empty restaurant 30 minutes before closing after our hospital experience Hope you enjoyed the 50% tip.